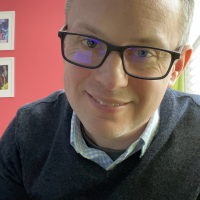 Phillip Knight Scott
Humor, Science Fiction, Poetry
Profession

Account Manager
Phillip Knight Scott is the author of the best-selling The Alien in the Backseat, a humorous buddy road-trip novel featuring one human and one persnickety alien with the Earth's very future along for the ride.

Phillip lives with his wife and five-year-old son in North Carolina and spent six years working in New York City … enough to know that someone asleep by 10 every night wasn't made for the City that Never Sleeps. He enjoys spending time with extended family, watching Tar Heels sports, and watching classic Doctor Who.
Phillip Knight Scott Books
"Loved it! 😍 A delightfully fun and light read full of humor. A space romp…on earth."
Phillip Knight Scott
"A book that sometimes reminds you of E.T., Alf and the Hitchhiker's Guide to Galaxy. Quite witty and entertaining. After reading this book, you will see air fresheners in a completely different light!"
Phillip Knight Scott